That's right – exciting news!  I've received my second 'Royal Commission'!  (It's quickly becoming an annual event!)
Young Poet Laureate for Nottingham, Georgina Wilding penned a fabulous love poem to mark HRH Prince Harry's first official visit to Nottingham with his new fiancée, Meghan Markle on Friday.  Georgina was appointed Nottingham's first-ever Young Poet Laureate in September 2017, as part of Nottingham UNESCO City of Literature's celebration of the city's thriving live poetry scene.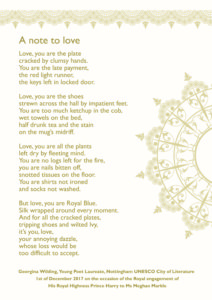 I was honoured to be asked by the City of Literature Team to create a pair of bespoke scrolls to present the poem and framed Georgina's words with a design based on the decorative lace stonework over the windows of the Adams Building in the Lace Market.  I then created two matching handmade boxes, tied the scrolls with ribbon and wrapped the boxes with a band of Nottingham lace.  BIG UP to my Sneinton Market Avenues buddies, Corrina Rothwell and Helena Tyce for their printing panache!
Georgina describes the poem 'A note to love' as a "commentary on long-term love and life as a pair. Through the throes and light frustrations of the day to day, we'd never choose to be without love, not really."
Sandeep Mahal, Director of Nottingham UNESCO City of Literature said "As a city that rings with words, it seemed natural that we present the happy couple with a poem to wish them joy and long-lasting love"
The excitement reached fever pitch when a beaming Sandeep returned to tell me all about meeting Meghan and their mutual appreciation of the written word!  I'm so proud and grateful to the City of Literature team to have been involved in the creation of this gift and I wish the royal couple a long and happy life together… (I await my 'By Royal Appointment' foil blocked envelopes with bated breath! 😉 )
~ Manton x
I've moved to the beautifully refurbished Sneinton Market Avenues and set-up a new collective, Curious? with my chums, Sarah Sewell of Wildgoose Designs and Jessica Kemp of JAK in the Green, where we offer a postive cornucopia of high quality, artist-led workshops, courses and masterclasses… and flowers in upcycled planters… and tea… ooh, and cake!
Find out more on Facebook, Twitter or Instagram, where we are CuriousNottm or our website www.curiousnottingham.co.uk
If you've been inspired to get slippy by The Great Pottery Throw Down or fancy your hand at drawing with your sewing machine, our new Spring classes are now listed on our website and Facebook pages and booking can be made through Eventbrite or directly by email.
~ Manton x
Phew!  Well I didn't think I'd keep a lid on THAT for quite so long! In January of this year, I was excited (and terrified in equal measure!) to be commissioned by the National Federation of Women's Institutes to design and create the official card from the WI to Her Majesty Queen Elizabeth II for her 90th birthday! An honour indeed, but where

to start?!  I was to produce a handmade papercut card for the Queen on behalf of the Queens of Craft!
I knew straight away that I wanted to include aspects of Nottingham Lace in the design, particularly as papercutting lends itself beautifully to the intricate detail of lace.  I had a Birkin & Co. archive piece in mind and chose some flower and leaf motifs to incorporate into the design.   The inclusion of the traditional WI logo referenced the historical relationship between the WI and both Her Majesty and the Queen Mother before her and the motifs and wording were held together with 'threads' of paper lace.
After many hours of cutting and a numb 'papercutter's finger', mounting the white papercut onto the Queen's favourite pale blue colour paid pleasing homage to Wedgwood's Jasperware, in honour of my father, a ceramicist and my creative hero!
A big thank you goes to the WI for this amazing opportunity and of course, a very Happy 90th Birthday to Her Majesty!
Professional artists will be growing the Inspire Garden in Nottinghamshire Libraries during the school holidays, encouraging everyone to combine creativity with local knowledge and make a collaborative giant flower artwork for each Library to add to the Inspire Garden Exhibition.
I'll be in full bloo
m at Kirkby-in-Ashfield Library tomorrow (Thursday, 7th April 2016) between 11.00am and 2.00pm and in Stapleford Library between 10.00am and 1.00pm on Saturday, 9th April 2016.  Just drop-in, all ages are welcome and the event is FREE!  Look forward to seeing you!
~ Manton x
Well, THAT was an absolute pleasure!… I spent the day at Kirkby in Ashfield Library yesterday, working with a wonderful group of young people, who just so happen to be Nottinghamshire Library Service Apprentices (and they spent the day learning all about the joys of working alongside an Artist in their Library and some Lovely Lace!)  We got stuck in straight away; getting to grips with embossing, die-cutting, layering, inking, painting and embellishing to create individual pieces of lettered artwork.  The artworks will come together to form a collaborative piece which will become the title artwork for the Lovely Lace touring exhibition!
Lovely Lace community workshops have been scheduled by Nottinghamshire Arts Service to take place in Libraries all around Nottinghamshire for the next few weeks.  The workshops are free to attend, run by awesome artists together with fabulous members of the Nottinghamshire Library Service team!
So, thank you, Library Apprentices, for a thoroughly enjoyable day and all your hard work!… and to add to your education, here are Morecambe and Wise in action!… (I can't believe anyone is so young that they don't know who Morecambe and Wise are!)
~ Manton x
There is something deeply satisfying about making your own book, particularly when it gives you an opportunity to keep some precious pictures in your pocket as you go about your day!
We held a lovely Mini Photograph Album workshop on Friday and five ladies made their first foray into the world of constructing books, creating their own u albums, adding ribbons and embellishing each of the pages.  They were over the moon with their books and surprised themselves with how wonderful they looked!
I'll be running this workshop again at Wollaton Library on Saturday, 16 April 2016, from 9.45am until 12.45pm.  There will only be a few places, so get in quick if you want to take part!
~ Manton x
I love the weather at this time of year (well, a very specific version of the weather) – when it's cold enough to see your breath, but bright and crisp… Naturally, my enjoyment is also dependent on a warm coat, boots, hat, scarf and possibly gloves, but still…
This is also the time of year for planting the Springtime joy – burying bulbs into the ground and waiting for the beautiful colours to burst forth flower power in a couple of months is the closest I get to a treasure hunt these days and it's an absolute pleasure.
I'll be attending the Aspley Library Community Garden Bulb Planting Day on Saturday, 24 October 2015, where as well as getting involved in planting some Spring colour, there will also be activities for the children and I will be reprising my much beloved Paper Hydrangea workshop (places are limited, so book ahead to be sure of your space!)
Then on Friday, 30 October 2015, Helen and I will be 'Digging in Some Daffs' in and around Hockley, as part of our Articulture project for the Creative Quarter.  It's all hands to the trowel, so spare us 15 minutes, please and help our lovely little bit of Nottingham bloom!… We'll be meeting at 4.00pm at Broadway – hope to see you there!
~ Manton x
Having spent much of the summer in fancy dress, enthusing children to 'Step Into a Story', recreating book covers with Broomhill Children's Centre and Hucknall Library and a goodly few weeks getting excited about making fantastic little sketchbooks with Big Draw activity organisers from all over Nottinghamshire, the bookish crescendo is finally here!… THE BIG DRAW 2015 starts on 1 October and runs all the way through until 31 October – The Big Draw is the world's largest drawing festival with one aim, to get everyone drawing; those who love to draw, as well as for those who think they can't!… This year's theme is 'Every Drawing Tells a Story', so story books it is and why not tell some Nottingham stories whilst we're at it?!
What's your favourite, happy Nottingham memory?… It might be a place, a person, a building, an event or even an animal!  I'll be in residence at the following Library events and I'd love you to drop in and add your own 'Nottingham Memory Card' to the compilation Big Draw Lace City Story Book:
You will also have the chance to make your very own sketchbook to take home or add to The Nottinghamshire Big Draw Exhibition, which will tour local Libraries into the new year.
I will also be running a workshop at Nottingham City Library on Tuesday, 13 October 2015 (from 1.00pm-4.00pm), as part of Mental Health Awareness Weeks, extolling the calming qualities of papercrafting – we'll be making your choice of either a paper hydrangea or journal… This event is free of charge, but places are limited, so you will need to book your place on 0115 915 2825 or email enquiryline@nottinghamcity.gov.uk 
~ Manton x
I've opened a little pop-up shop!… Curious? is the name of this fine establishment and it's based in Nottingham's Creative Quarter, opposite the iconic Ice Nine at 8 Goose Gate.
As well as my papercut artworks and upcycled curiosities (see what I did there?), Curious? also features the work of a carefully handpicked selection of my artistic chums, many of whom do not already have representation in our fair city. It makes for a shop jam-packed full of lovely handcrafted items and is proving very popular with the shoppers of Nottingham 🙂
The shop is open Tuesday-Friday from 1.30pm until 6.00pm and all day on Saturdays (10.00am-6.00pm) and as well as showing and selling our wares, the artists also pop in from time to time to do some 'making in action'.
On Tuesdays and Wednesdays, a representative from Nottingham's Creative Quarter Company will also be on hand to offer advice and answer CQ-related questions.
Curious?… Then why not call in when you're next in Hockley?
~ Manton x
My purple Dr Marten's boots are featuring heavily in this interview I did for Notts TV (which pleases me), but once you get beyond their *volume* you can hear about lots of the great stuff that's going on in Nottingham's Creative Quarter at the moment.
Click this here link for your visual enjoyment! – Notts TV – Working Week 7 October 2014
It was pure fate that I set up my studio three years ago in what was to become the heart of the CQ, but I can honestly say, it's been a fantastic ride thus far and I can only see bigger and better things happening in the future for the CQ, for Nottingham and all the creative, independent lovelies within! 🙂
~ Manton x