A second Royal Commission, you say?
That's right – exciting news!  I've received my second 'Royal Commission'!  (It's quickly becoming an annual event!)
Young Poet Laureate for Nottingham, Georgina Wilding penned a fabulous love poem to mark HRH Prince Harry's first official visit to Nottingham with his new fiancée, Meghan Markle on Friday.  Georgina was appointed Nottingham's first-ever Young Poet Laureate in September 2017, as part of Nottingham UNESCO City of Literature's celebration of the city's thriving live poetry scene.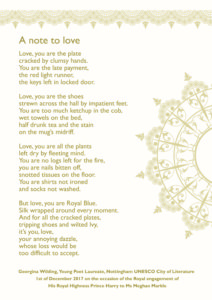 I was honoured to be asked by the City of Literature Team to create a pair of bespoke scrolls to present the poem and framed Georgina's words with a design based on the decorative lace stonework over the windows of the Adams Building in the Lace Market.  I then created two matching handmade boxes, tied the scrolls with ribbon and wrapped the boxes with a band of Nottingham lace.  BIG UP to my Sneinton Market Avenues buddies, Corrina Rothwell and Helena Tyce for their printing panache!
Georgina describes the poem 'A note to love' as a "commentary on long-term love and life as a pair. Through the throes and light frustrations of the day to day, we'd never choose to be without love, not really."
Sandeep Mahal, Director of Nottingham UNESCO City of Literature said "As a city that rings with words, it seemed natural that we present the happy couple with a poem to wish them joy and long-lasting love"
The excitement reached fever pitch when a beaming Sandeep returned to tell me all about meeting Meghan and their mutual appreciation of the written word!  I'm so proud and grateful to the City of Literature team to have been involved in the creation of this gift and I wish the royal couple a long and happy life together… (I await my 'By Royal Appointment' foil blocked envelopes with bated breath! 😉 )
~ Manton x
Latest Products